Antique Old American Folk Art Primitive Cigar Store Indian Wood Sculpture 30s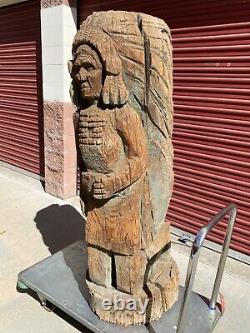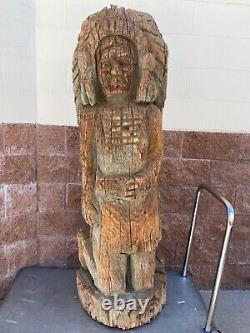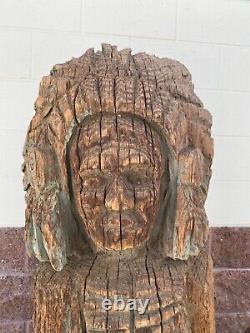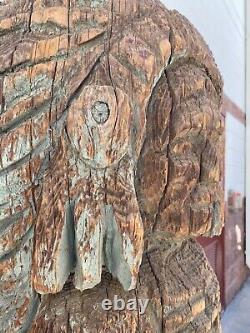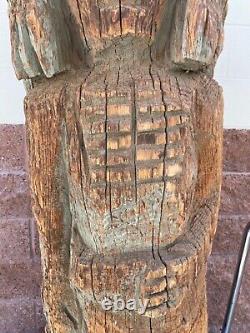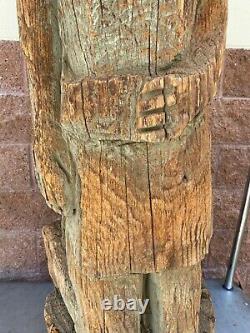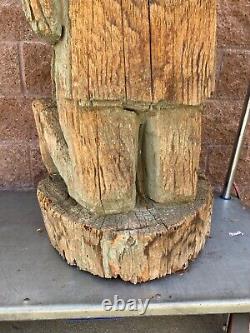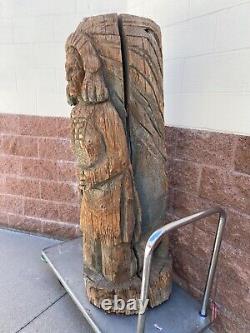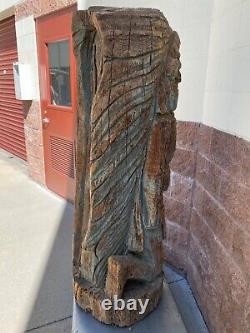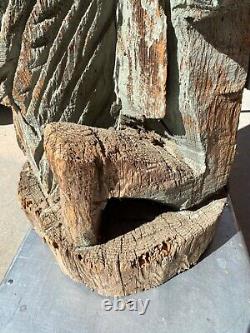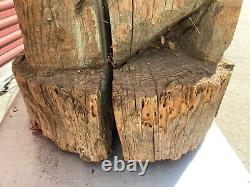 This is a fantastic and early Antique Old American Folk Art Primitive Cigar Store Indian Wood Sculpture, depicting a kneeling Native American chief with a full headdress. His stoic expression gazes forward, and he appears to be holding something close to his chest with his left hand.
This work approximately dates to the 1930's - 1940's and appears to be unsigned. Perhaps you recognize the sculptor? There are remnants of old blue paint throughout, and at one time in its history it was probably fully painted. This is a life-sized statue, at approximately 61 1/2 inches tall x 20 inches wide. This work has an honest old patina, with weathering, wood splitting, chipping and some old termite nibbles at the base please see photos. This is not your commonplace souvenir shop Cigar Store Indian made in the 1970's or available on commission from Etsy, this is a very old piece of Southwestern American Folk Art which has clearly stood outside of a tobacco shop for many, many decades and possibly on Route 66. Acquired from an old deceased antique collection in Palm Springs, California. This incredible Southwestern American Folk Art sculpture is priced to sell. If you like what you see, I encourage you to make an Offer. Please check out my other listings for more wonderful and unique artworks! The Story of Cigar Store Indians. A carving of a wooden Indian indicated a tobacco store; a red, white and blue striped pole symbolized a barber; three gold balls represented a pawn shop; a mortar and pestle indicated an apothecary. The symbolism of the statues was because the source of the tobacco supply at that time was from Native Americans. By 1650 tobacco was growing in popularity, and in London, several cigar store Indians gave rise to what became a form of signage that was used for 250 years.
These early carvings were made by carvers who had never seen a Native American so they were based on drawings or descriptions from those who had visited the colonies. The sculptures were sometimes called "Virginians" or "Virginnie men" to clarify what they represented. Signage Tradition Crosses the Pond. By the 1850s, cities were increasing in size and there were more stand-alone tobacco stores.
This was when the Cigar Store Indian took its place on American streets. These carvings-figureheads and store carvings-were generally out of a single piece of wood, An outstretched arm sometimes had to be attached separately.
Everything from the selection of the material to the artistry of the carving made a difference. Not every tobacconist wanted an Indian for the shop. Another popular figure for tobacco stores were Turks wearing turbans, soldiers in uniform, or a fashionable lady. Each Cigar Store Indian Had a Personality.
The statues used to mark various stores took on personalities given them by the townspeople. In Reading, Pennsylvania, the cigar store Indian was known as Old Eagle Eye. Chief Blackhawk, carrying a warrior's club and a lion skin, lived on the streets of Louisville, Kentucky. Chief Semloh was created in 1849 in San Francisco, and he lasted on the streets there until the San Francisco earthquake in 1906. Semloh was removed from the street, but someone took an interest in tinkering with him. They made it so he could blow smoke through his mouth and talk through a loudspeaker in his chest. Famous Carvers of Cigar Store Indians. Melchers was a German-born sculptor who immigrated to the U. In 1848 and settled in Detroit, where he established himself as a carver.
In addition to carving cigar store Indians, he did other types of sculpture. In the late 1860s, Melchers was commissioned to carve the "larger than life" sand stone statues of Detroit's four French pioneer: Antoine Cadillac, Father Jacques Marquette, Robert de LaSalle, and Father Gabriel Richard. These were installed at the old Detroit City Hall in 1874, and they are now are on view at Wayne State University.
In his teens he apprenticed to a shipbuilder, and then took a job with a wood-carver where he further perfected his art. At night Robb took classes, first at the National Academy of Design, and then at Cooper Union. In 1876 (when he was 25) he opened his own shop in New York City, and it became the largest shop of its kind during the 19. Robb became highly sought-after carver for his ability to create a wide variety of figures ranging from cigar store Indians to circus wagons and ventriloquist dummies.
Because he was highly sought-after he eventually opened a second workshop. Popularity of Store Statuary Declines. Beginning in about 1890, city streets were becoming increasingly crowded. Many cities passed laws requiring two feet of open space in front of each store.
In addition, tobacconists were expanding their product lines. As a result, many of the cigar store Indians were retired or tossed. Today there are not many left.
Those that exist tend to be in museum collections or in private hands. History of Cigar Store Indians. You don't see it quite as much as you used to, but every now and then there's a wooden statue of an "Indian" holding a bundle of cigars, and the statue is standing outside a tobacco shop. You can still see one in Beverly Hills and one in Charlotte, North Carolina.
The real question is, why? Why is a likeness of a Native American being used to indicate that through these doors there are delicious cigars? First, let's be clear. These days, the use of a cigar store Indian is about as politically acceptable as calling a Washington, DC, football team, uh, well, you know.
Many Native Americans view the use of cigar store Indians as the equivalent of African-American lawn jockeys. So, little wonder that you see fewer and fewer, but kind of puzzling why you see any at all. The same way a barber pole, with its multicolored stripes, indicates that you are at a barber shop, in the 17th century, the cigar store Indians came to represent to a largely illiterate population that a tobacco shop was in that spot. The American Indians - and we're talking about America in the larger, continental sense - were widely understood to have introduced Europeans to tobacco. If you also look at old cigar boxes, you'll find many images of Native Americans on them, as well as names like "Hiawatha, " "Cherokee Maid, " and Indian Pride.
Curiously, the Native American cigar statues, because European carvers had never seen any Native Americans, were generally black in color (some actually made of cast iron). They more resembled Africans with feathers in their headdresses. As time passed, the statues began to look more like Native Americans and, when the use of these statues arrived in the Americas in the late 18th century, they had become more Indian. Prior to society becoming more considerate about such matters, cigar store Indians became less and less prevalent because of sidewalk obstruction laws, as well as the cost of making the statues.
Also contributing to their demise were restrictions on tobacco advertising and a nascent sensitivity towards the depictions of Native Americans. Today, viewed mostly as folk art, these statues are found mostly in museums and antique shops. This item is in the category "Antiques\Primitives".
The seller is "willsusa_utzeqm" and is located in this country: US. This item can be shipped to United States.
Size Type/Largest Dimension: Large (Greater than 30in. )
Type: Cigar Store Indian
Signed: Unsigned
Date of Creation: 1900-1949
Original/Reproduction: Original
Style: Americana
Material: Wood
Region of Origin: US, Southwest