Vintage Retro WORLD FAMOUS BBQ Sign 2-Sided 3-D Old-Fashioned Lighted Marquee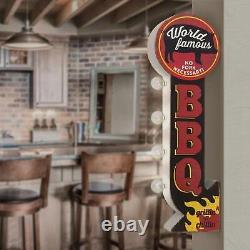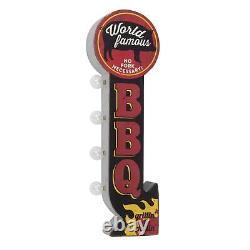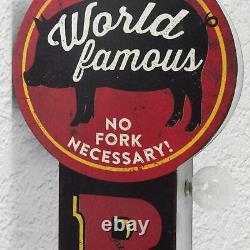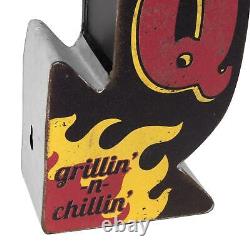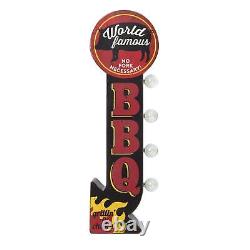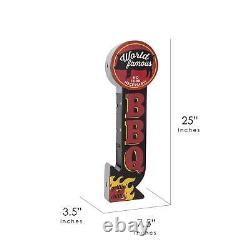 Vintage Retro WORLD FAMOUS BBQ Sign 2-Sided 3-D Old-Fashioned LED Lighted Marquee. Season or Holiday: All Seasons. L X 25.0 In. H X 3.5 In.
Who needs a fork when the only thing between you and some world-famous ribs is a few feet worth of distance? Let your friends, family, and guests know they're in for a treat whenever they come over for your next bbq or cookout with this vintage-inspired LED marquee sign. Made from galvanized metal with the word "BBQ" in bold red lettering against a black background, this cool piece of wall decor possesses all the hallmarks of classic vintage-style signs and combines them with modern energy-efficient LED lights.
The flashy, red, yellow, and black design instantly commands your attention while the rest of the sign exudes a nostalgic feel. Subtle distressing gives it a weathered, just-saved-from-the-junkpile look while the textured galvanized metal gives it a rustic feel, as if it were a hidden gem discovered in an old garage or antique shop. Lined with four bulbous LED lights, this piece is an electrifying way to bring some novelty and a unique touch to your home that you better believe will become a catchy conversation starter at your next get-together. Whether you're looking to decorate your kitchen, dining room, home bar, or simply want to add some flair to your home or game room, this dynamic sign will captivate everyone's attention with its retro look.
Powered by two AA batteries (not included), there's no need to worry about unsightly or tangled cords. A simple on/off toggle switch on the back allows for easy operation, while two keyhole slots on the back makes installation a breeze. PRODUCT SPECS: Overall Dimensions: 25" H x 7.5" L x 3.5 D Weight: 2.3 Contains: 2 keyhole slots. VINTAGE WALL DECOR - This World Famous BBQ sign has vintage appeal with its LED light bulbs that are reminiscent of old marquee signs.
A perfect piece to add some retro fun to your own kitchen, living room, or man cave, this sign has fun novelty appeal. DOUBLE-SIDED SIGN - This vintage-inspired sign is visible from both sides, giving your home bar, man cave or she shed a balanced and complete look. ENERGY-EFFICIENT LED LIGHTS - This off-the-wall sign comes with four LED lights and one replacement bulb; creating a marquee style sign that is catchy and attractive for your wall decor needs.
Plus, LED lighting is a cost-effective and environment-friendly use of power. BATTERY-OPERATED - Requiring only two AA batteries (not included) to power this unique piece, you won't have to worry about messy wires that take away from its aesthetic.
READY TO HANG - Two keyhole slots on the back make for easy installation and mounting (hanging hardware not included). Great for decorating the man cave.
It is a very cool and eye-catching item.