Old antique French enamel street road sign plaque Battle of Bapaume stunner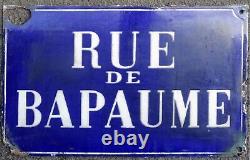 This listing is for a genuine French vitreous enamel on sheet steel street sign. Displayed on the road in question and removed due to replacement, renaming, redevelopment or roadwork. 10" x 16" or 25cm x 40cm. The white enamel is in bas relief - excellent definition.
This sign was made in 1900s and is from Lille. Showing all of its age.
Cure the rust and it will last another century. Bapaume is a town way to the south. This street is likely to commemorate the Battle of Bapaume during the Franco-Prussian War. It predates the two battles during WWI. Lille was heavily shelled during WWI. The damage top left may be shrapnel damage.