Fine Antique Old 19th c. French Orientalist Tunis Oil Painting, Signed 1893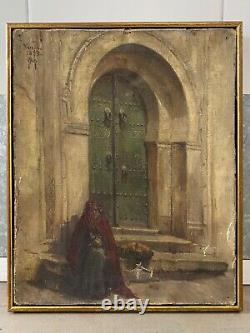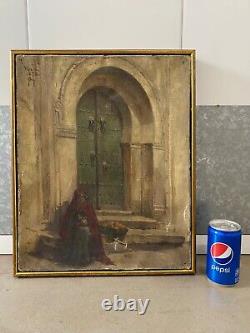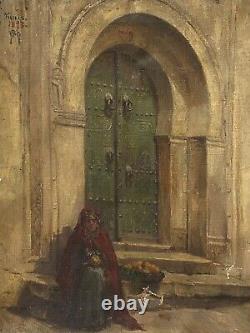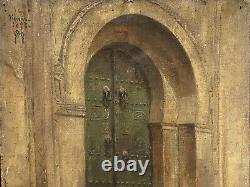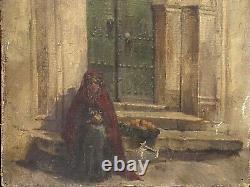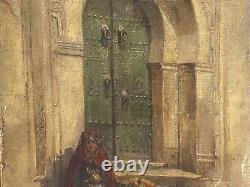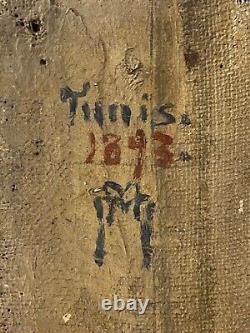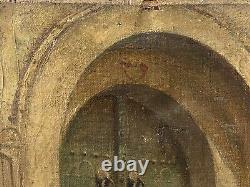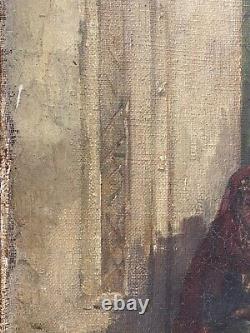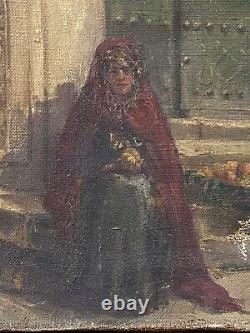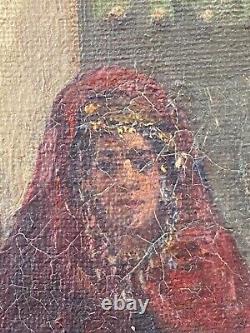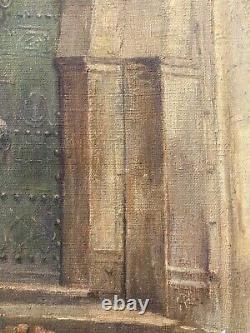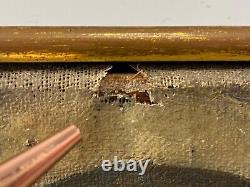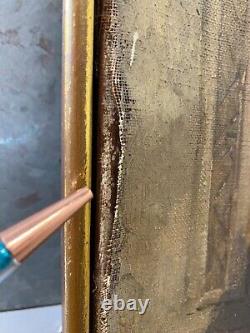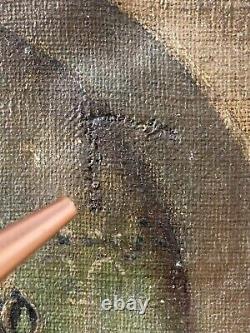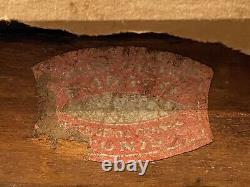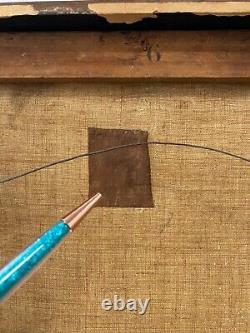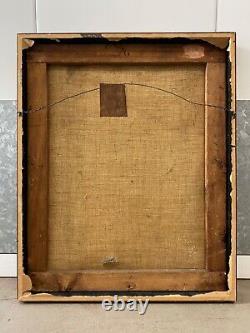 This is a fascinating, well done and Fine Antique Old 19th c. French Orientalist Tunis Oil Painting on canvas, depicting a shrouded Muslim woman sitting on the steps of a very old Tunisian stone building. A large green wooden door is seen behind her, and the subject's facial expression appears solemn and pensive. Titled, dated and signed with a monogram in the upper left corner: Tunis 1893, M. I could not figure out which artist created this piece, but perhaps you recognize them or their work? Additionally, there is an old framer's label on the top stretcher bar of the verso which reads:... This painting is clearly by the hand of a masterful Orientalist painter. Approximately 13 1/2 x 16 1/2 inches including frame. Actual artwork is approximately 12 3/4 x 15 3/4 inches. Good condition for well over a century of age, with moderate edge wear, small tears, and evidence of old repairs which are visible on the verso please see photos.
Acquired in Los Angeles County, California. If you like what you see, I encourage you to make an Offer.
Please check out my other listings for more wonderful and unique artworks! Orientalism' refers to the representation of the East in Western art which often blurred the line between fantasy and reality. The Orientalist art movement reached its height during the 19th century and is perhaps best known today for its production of impressive oil paintings and works on paper. These paintings were popular in the 19th century, as Europeans and North Americans increasingly turned their attentions to cultures overseas. The works were mostly by male Western artists, made to satisfy an enormous public interest in the lands of the Middle East and North Africa.
Many artists travelled to the places they depicted, whether Constantinople, Jerusalem, Cairo or Marrakesh. Others travelled no further than Paris or Vienna, using a mixture of photographs, props and imagination for inspiration. Recurring images included everything from detailed sketches of everyday life to highly imaginative scenes of the harem. Interest in Orientalism developed in tandem with European colonial activity, which allowed soldiers, traders and artists greater access to the places and peoples of these regions.
An important function of Orientalist painting was to create a visual record of places of interest. Such images were aimed at a growing market of Europeans and North Americans who either visited the Middle East and North Africa or were interested in the regions from afar. Travel was made easier by steamships and trains, so paintings tended to focus on cities, such as Constantinople, Cairo and Marrakesh, the arrival points for artists and their potential customers alike.
Some images depicted sites of religious importance, both Christian and Muslim, while others captured the ancient sites of pre-Islamic history, such as the Egyptian pyramids. A picture in every street. Scenes of everyday life, whether realistic or imagined, were a particular source of interest to the Orientalist painters. Some images focused on a single individual, while others engaged with a multitude.
Similarly, they ranged from quiet and contemplative pictures to wildly dramatic scenes. The most detailed were perhaps drawn from life, or betrayed the influence of photography - a newly emerging discipline. Others were clearly the products of a studio setting, where objects and clothes from different periods and places were liberally mixed as props.
Images of Muslims engaging with their faith, whether at prayer, performing the Hajj pilgrimage (as the image below shows) or studying in a. (religious school), were an essential feature of the Orientalist vision. For Europeans and North Americans, religion was one of the key differences between themselves and the peoples of the Middle East and North Africa. Pictures such as these could therefore simply be seen as evoking an exotic'Orient'. Such depictions of religion can also be seen as a response to the anxieties of the time.
European society and morality were in a state of flux. Under pressure from industrialisation and secularism. During the 19th century, European and North American artists differed on how best to represent the various peoples of the world.
Orientalist painters, who closely studied the different ethnic, religious and social groups of the Middle East and North Africa often focused on clothing. This was a continuation of the'costume book' tradition of earlier centuries, as well as a response to the fashionable new practices of photography and ethnography (the study of people and cultures). Visitors to the Middle East and North Africa were often depicted in local dress, whether as a genuine attempt at cross-cultural existence or simply to experience the'unusual' and different. Perhaps the most controversial aspect of Orientalist painting is the recurring image of the woman within the harem, which privileges the male gaze of the outsider. Although the harem was merely a private domestic space to which unfamiliar men would not be admitted, Europeans and North Americans were fascinated by what happened within.
Most artists resorted to their imaginations, using the backdrop of the harem as an excuse to paint nude women. This invasive attention was, in many ways, a metaphor for the Orientalist approach to the region. This is a largely imagined interior of an Ottoman harem. A place of pleasure and decadence, details include the everyday rituals and relationships between the women.
Although it appears realistic, on closer inspection it is filled with unlikely details. The artist, Antoine-Ignace Melling, did design a palace for the Ottoman princess Hatice Sultana, which included a harem, but he would never have seen it in use. The artwork provoked Turkish artist Inci Eviner to create a critical response. The final work in the exhibition. With this work, Eviner challenges the Orientalist view of the harem as a place of sexual intrigue and subjugation. She reclaims Melling's depiction of a harem, turning his masculine and pseudo-realistic view into a living, breathing space. Opening with the 19th-century work, Eviner slowly replaces Melling's imagined characters with real ones of her own - active women who are protesting, praying and attempting to escape. Eviner explains:'The figures shaped within the Orientalist fantasies of the age became part of a distinctly scientific description. This is why I was drawn into this hex; I wanted to tear this scene apart and get into it'. This item is in the category "Art\Paintings".
The seller is "willsusa_utzeqm" and is located in this country: US. This item can be shipped to United States.
Size: Medium
Signed: Yes
Period: Art Nouveau (1880-1920)
Title: \
Material: Canvas, Oil
Region of Origin: California, USA
Framing: Framed
Subject: Africa, Cityscapes, Figures, Women
Type: Painting
Year of Production: 1893
Original/Licensed Reproduction: Original
Item Height: 16 1/2 in
Style: Realism, Orientalism, Orientalist
Theme: Architecture, Cities & Towns, Continents & Countries, Cultures & Ethnicities, History, People, Religious
Features: One of a Kind (OOAK)
Production Technique: Oil Painting
Country/Region of Manufacture: Tunisia
Culture: Tunisian
Handmade: Yes
Item Width: 13 1/2 in
Time Period Produced: 1850-1899