Antique Plaque Virgo Zodiac Sign Cast iron Bouquet Flowers Decor Rare Old 20th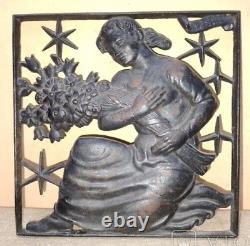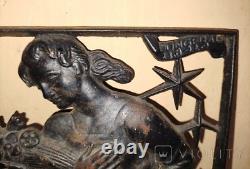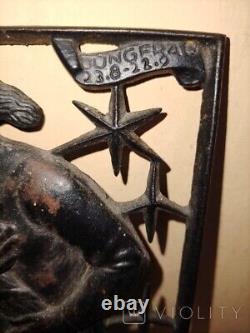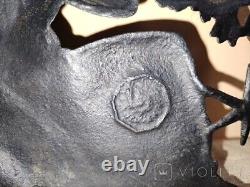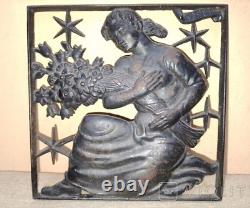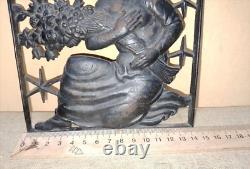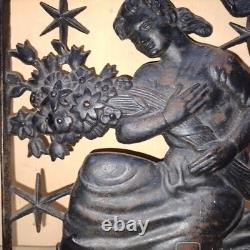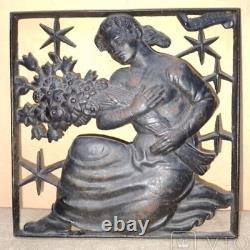 Antique Plaque Virgo Zodiac Sign Cast iron Bouquet Flowers Decor Rare Old 20th. Dear Buyers & collectors, We are Pleased to offer you a Gorgeous Unique Antique Beautiful.
Very beautiful art work jewelry. Introducing the Plaque Virgo, a captivating symbol of the zodiac sign's grace and beauty. This exquisite cast iron plaque celebrates the essence of the Virgo astrological sign, depicting a lady surrounded by a bountiful bouquet of flowers.
Crafted with meticulous attention to detail, the cast iron plaque showcases the intricate artistry and craftsmanship of skilled artisans. The strong and durable material lends a timeless quality to the piece, ensuring its longevity and ability to be cherished for years to come.
At the center of the plaque stands a graceful lady, representing the Virgo zodiac sign. Her elegant posture and serene expression exude an air of refinement and poise, embodying the characteristics associated with this earth sign-intelligence, practicality, and attention to detail. Surrounding the lady are a vibrant array of flowers, forming a splendid bouquet that symbolizes the inherent connection between Virgo and the natural world.
Each delicate petal and intricately sculpted blossom captures the essence of the flora, evoking a sense of vitality, growth, and harmony. The Plaque Virgo serves as a meaningful and beautiful decorative piece, ideal for adorning any living space or personal sanctuary. Whether displayed in a bedroom, study, or as part of a larger zodiac-inspired collection, it adds a touch of elegance and mystique to any environment. This stunning cast iron plaque is not only a striking art piece but also a thoughtful gift for astrology enthusiasts and individuals born under the sign of Virgo. It serves as a reminder of their unique qualities and the profound influence of the stars on their lives, making it a cherished keepsake that resonates on a personal level.
Embrace the celestial beauty of the Plaque Virgo, a symbol of grace, intellect, and the abundant wonders of the natural world. Let this exquisite artwork captivate your imagination and celebrate the timeless allure of astrology in a truly enchanting way. In good condition as on the photos.
Condition exactly as on the photo, please exam photos for details. This is lovley item own or to give as specail gift. Please view all photos alone with reading this description. If thers is anything I need to clarify, feel free to ask questions. I have other antique and vintage items for sale at the moment and shall be listing other over the following few days, so please keep checking my items for sale. This is a lovely item to own or to give as a special gift. This means they have the usual aspects of pre-owned jewellery.
If there is a major dent, ding, flaw, or bend, it will be noted under the basic information. Please review all photos closely, since they are a large part of my item description. (all made with daylight, to show the colour as authentic as possible). I check myself each product and sell only the best quality products.
In any case, if you are not satisfied with the product. Please contact me and I will do everything to your satisfaction. I accepted within 14 days, In its original packaging and on condition the item is its original condition as received. My customers are very important to me! Please, In case of any problem or question, please feel free to contact me and I will do everything.
I can to make you be satisfied! In any case of problem contact me right away before leaving feedback so I will do my very best to resolve any problem. And to make you satisfied.