Antique Painting Oil On Panel Navy Sea Port Signed Tessier Framed Rare Old 19th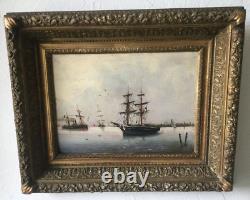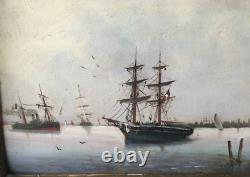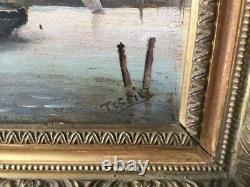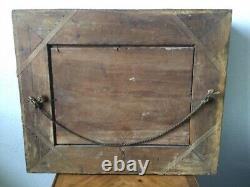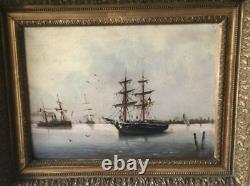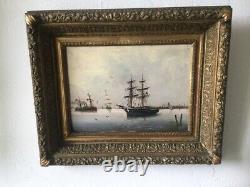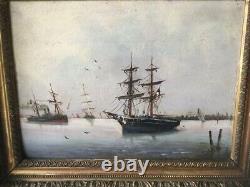 Antique Painting Oil On Panel Navy Sea Port Signed Tessier Framed Rare Old 19th. Navy Signed Tessier XIXth Time. Dear Buyers & collectors, We are Pleased to offer you a Gorgeous Unique Antique Beautiful. Very beautiful art work jewelry.
Material: Oil painting on wood. Oil on wood panel in its original frame. Dimension at sight 31.5 x 23 cm. Presenting an exquisite piece that captures the maritime spirit of the XIXth century, this "Navy" oil painting by the renowned artist Tessier is a true masterpiece. Painted on a wood panel and preserved within its original frame, this artwork invites viewers to step into a world of seafaring adventure.
Measuring 31.5 x 23 cm at sight, the painting showcases Tessier's impeccable attention to detail and mastery of the maritime subject. The careful preservation of this piece within its original frame further adds to its historical charm, enveloping the artwork in an aura of authenticity. The combination of wood panel and oil medium lends a timeless quality to the painting, ensuring its enduring appeal. "Navy" by Tessier is a testament to the artist's skill and the allure of maritime art.
Whether displayed as a centerpiece in a nautical-themed room, as part of an art collection, or as a tribute to the maritime heritage, this painting evokes a sense of wonder and admiration for the vast and captivating world of the sea. In good condition as on the photos. Condition exactly as on the photo, please exam photos for details.
This is lovley item own or to give as specail gift. Please view all photos alone with reading this description. If thers is anything I need to clarify, feel free to ask questions. I have other antique and vintage items for sale at the moment and shall be listing other over the following few days, so please keep checking my items for sale. This is a lovely item to own or to give as a special gift.
This means they have the usual aspects of pre-owned jewellery. If there is a major dent, ding, flaw, or bend, it will be noted under the basic information. Please review all photos closely, since they are a large part of my item description. (all made with daylight, to show the colour as authentic as possible).
I check myself each product and sell only the best quality products. In any case, if you are not satisfied with the product.
Please contact me and I will do everything to your satisfaction. I accepted within 14 days, In its original packaging and on condition the item is its original condition as received. My customers are very important to me! Please, In case of any problem or question, please feel free to contact me and I will do everything. I can to make you be satisfied!
In any case of problem contact me right away before leaving feedback so I will do my very best to resolve any problem. And to make you satisfied.