Antique Original Very Rare Porcelain Enamel Collectibles Vintage Old Sign Board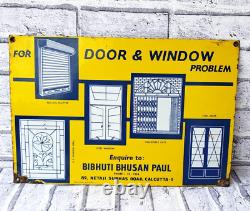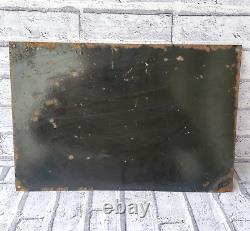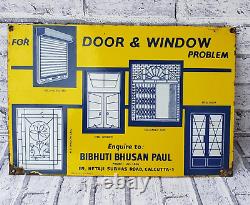 Antique Rare Window & Door Fabricator And Repair. This Is a Collectible Antique Enamel SignBoard Of. BIBUTHI BHUSHAN DOOR & WINDOW REPAIR. This is a vintage Signboard Have Collectible Value.
This is around a 60+ Years Old advertisement Board. This Vintage Signboard is in Good Condition.
Enamel Signboards are used to advertise Products and services in vintage times. Now, this type of Enamel Signboard has Become Rare and Collectors Love to Collect this Rare vintage Piece of Art. Weight: 1.900 Gm (Approx). This Item As Shown In the Picture See Photos for the actual condition.
A vintage enamel signboard is a charming and collectible piece of advertising or decorative art that harkens back to an earlier era. These signboards were typically created in the late 19th to mid-20th century and were widely used to advertise products, services, or events. They are characterized by their durable enamel coating, which consists of powdered glass fused onto a metal base (usually steel). A vintage enamel signboard is not just a piece of advertising but a tangible link to the past, evoking nostalgia and capturing the essence of a bygone era.
Whether displayed as a decorative art piece or proudly showcased in a collection, these signboards offer a glimpse into the history of design, marketing, and societal trends. Note- After Receiving the item, Please Leave Your Feedback.