ANTIQUE OLD OIL PAINTING Signed ROMANTIC ROMANCE LANDSCAPE MOUNTAIN CLIFF NATURE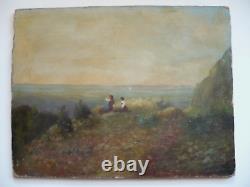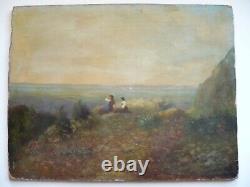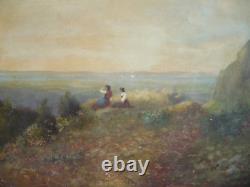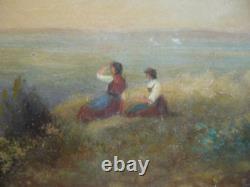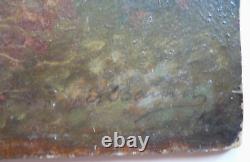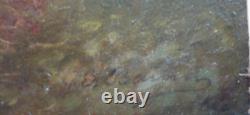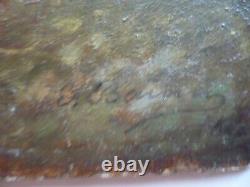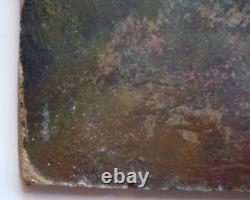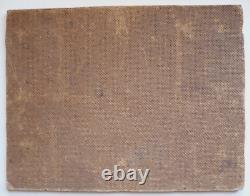 ANTIQUE OLD OIL PAINTING, Signed OIL ROMANTIC STYLE LANDSCAPE MOUNTAINS CLIFFS with FIGURES FROM EARLY TIME LOOKING OUT AT VIEW. A pair of women or couple dressed in clothes from that time, looking out on a landscape view similar to Thomas Hill or Hudson River School style antique paintings. Mountain landscape cliffs, spending time in nature and beauty of the landscape.
Appears to be from the late 19th Century to early part of the 20th Century, signed lower right. Mystery artist, unable to make out signature, mystery artist.
7.25x9.25 inches unframed. A couple flecks and scuffs can be seen in center of the painting and around edges (see photos). Antique as found painting with some light edge wear from frame rub and storage over the years, would be covered once reframed (see photos). Could use a light cleaning (see photos).
Overall appears to be in good visible condition. SEE PHOTOS - As found old painting and in overall good condition with some light wear to edges from storage (Please see photos). Consider as vintage antique artwork, as found, good visible condition with some light cleaning needed due to age. -- PLEASE ASK QUESTIONS BEFORE ORDERING. VINTAGE LISTED ART LISTED CALIFORNIA AND AMERICAN FINE ART, BARGAIN COLLECTIBLE ARTWORK, VINTAGE PLEIN AIR ART AND IMPRESSIONIST IMPRESSIONISM, MID CENTURY MODERN, MODERNIST MODERNISM OIL PAINTING WATERCOLORS ETCHING PRINTS and MORE. CHECK BACK WEEKLY FOR NEW ARRIVALS. 1000's OF LISTED ART and FINE ART COLLECTIBLES.
HUGE SELECTION of LISTED ART, VINTAGE LANDSCAPE and PLEIN AIR PAINTING, ABSTRACT and CONTEMPORARY FINEART, FOLK and PRIMITIVE ART, VINTAGE OILS, WATERCOLOR, VINTAGE SILKSCREEN and ENGRAVING and MANY MORE FINE ART and MIDCENTURY FINE ART TO CHOOSE FROM. BEST OFFER on 1000's of LISTED ARTISTS and FINE ART VINTAGE PAINTINGS.