Antique Oil On Copper Painting Polo Players Horse Signed In Lerren Rare Old 20th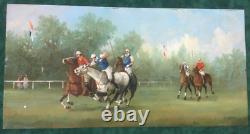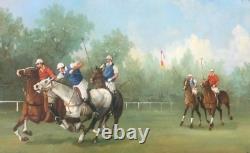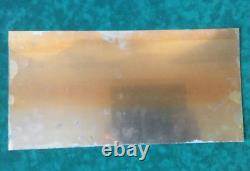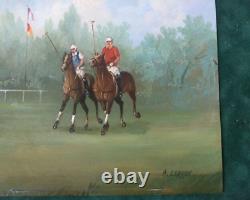 Antique Oil On Copper Painting Polo Players Horse Signed In Lerren Rare Old 20th. Oil On Copper Polo Players Signed In Lerren. Dear Buyers & collectors, We are Pleased to offer you a Gorgeous Unique Antique Beautiful. Very beautiful art work jewelry. Polo scenes are not common, good rendering.
Presenting a remarkable oil painting on copper depicting polo players on horseback, signed by the artist A. Created during the 20th century, this artwork showcases a unique style that sets it apart from conventional designs of its time. The painting is in perfect condition, ensuring that every detail and nuance of the composition can be appreciated. Measuring 40 cm in length and 20 cm in height, this oil painting on copper captures the dynamic and spirited sport of polo. The artist skillfully portrays the energy and movement of the players and their horses, bringing the scene to life with remarkable precision. Polo scenes are not commonly depicted in art, making this painting a distinctive and captivating find. The artist's signature, A. Lerren, adds an air of authenticity and establishes the provenance of the artwork. While the specific style of this piece falls into the category of "Other Style, " it bears the unique artistic expression and flair of the 20th century. The medium of copper lends a distinctive quality to the painting, allowing for intricate details and vibrant colors to be rendered with precision. The smooth surface of the copper enhances the overall visual impact and creates a luminous effect that adds depth and richness to the composition. This oil painting on copper is a testament to the talent and skill of the artist, as well as their ability to capture the essence and spirit of the polo scene. The artwork's perfect condition ensures that its original brilliance and artistic integrity remain intact, offering a rare opportunity to acquire a piece of art in pristine condition. Whether you are a collector of sporting art, an enthusiast of equestrian pursuits, or simply someone with an appreciation for fine artistry, this painting is sure to captivate your imagination and evoke a sense of admiration for the skillful rendering of the polo players and their horses. Embrace the opportunity to own this extraordinary oil painting on copper by A. Lerren, a testament to the artistic vision and creative expression of the 20th century. Let it serve as a captivating addition to your collection, a statement piece in your home or office, or a cherished gift for someone with a discerning taste for artistry and sporting pursuits. In good condition as on the photos. Condition exactly as on the photo, please exam photos for details. This is lovley item own or to give as specail gift.
Please view all photos alone with reading this description. If thers is anything I need to clarify, feel free to ask questions.
I have other antique and vintage items for sale at the moment and shall be listing other over the following few days, so please keep checking my items for sale. This is a lovely item to own or to give as a special gift. This means they have the usual aspects of pre-owned jewellery. If there is a major dent, ding, flaw, or bend, it will be noted under the basic information.
Please review all photos closely, since they are a large part of my item description. (all made with daylight, to show the colour as authentic as possible). I check myself each product and sell only the best quality products.
In any case, if you are not satisfied with the product. Please contact me and I will do everything to your satisfaction. I accepted within 14 days, In its original packaging and on condition the item is its original condition as received. My customers are very important to me!
Please, In case of any problem or question, please feel free to contact me and I will do everything. I can to make you be satisfied! In any case of problem contact me right away before leaving feedback so I will do my very best to resolve any problem.
And to make you satisfied.