Antique French Vase Decor Ceramic Floral Liberty Style Sign Handle Rare Old 19th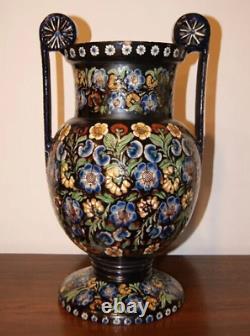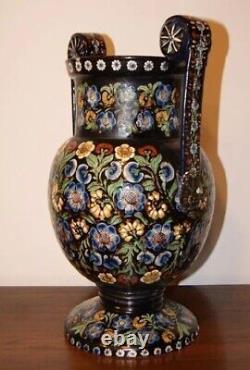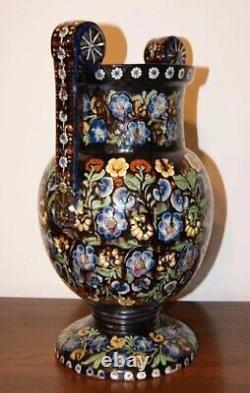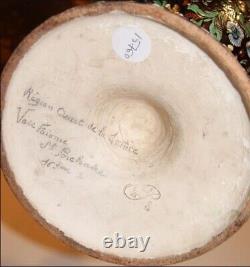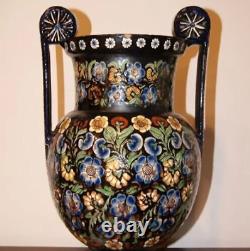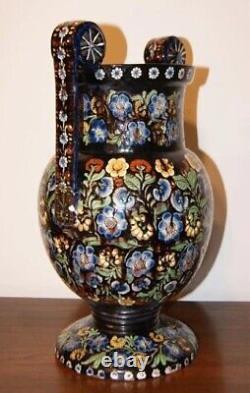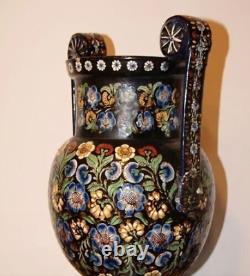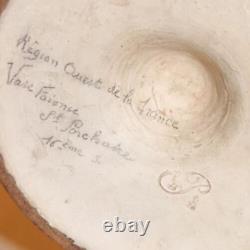 Antique French Vase Decor Ceramic Floral Liberty Style Sign Handle Rare Old 19th. French vase in decorated blue ceramic from the late 1800s in Liberty style. Dear Buyers & collectors, We are Pleased to offer you a Gorgeous Unique Antique Beautiful. Very beautiful art work jewelry.
Beautiful French vase from the late 1800s, Liberty style, in blue ceramic richly decorated with a floral motif. Features signature on the bottom. Immerse yourself in the enchanting beauty of this stunning French vase from the late 1800s, crafted in the captivating Liberty style.
This magnificent piece, resplendent in rich blue ceramic, is adorned with a lavish floral motif, showcasing the intricate artistry of the era. Hailing from France, this vase exudes an air of elegance and sophistication, reflecting the artistic traditions of the late 19th century. Its graceful form and meticulous craftsmanship make it a true testament to the skill and dedication of the artisans of the time. The blue ceramic glaze enveloping the vase creates a sense of tranquility and serenity, while the intricate floral decorations breathe life into the surface.
The delicate brushstrokes and vibrant colors bring the flowers to life, as if frozen in time, radiating beauty and grace. Measuring 23x23x44h cm, this French vase commands attention with its generous proportions. Its size allows it to make a statement in any space, becoming a focal point that effortlessly enhances the ambiance of a room. Whether displayed on a mantle, adorning a console table, or gracing a shelf, this vase exudes a sense of timeless elegance.
The Liberty style, characterized by its celebration of nature and flowing, organic forms, is beautifully captured in this vase. Its design pays homage to the movement's ethos of embracing natural beauty, and the result is a harmonious blend of art and nature. Adding to its allure, this French vase features a signature on the bottom, a mark of authenticity and provenance. Its origin in France further enhances its appeal, serving as a testament to the country's rich artistic heritage. For collectors, art enthusiasts, or those with an appreciation for beauty, this French vase in decorated blue ceramic is a treasure worth acquiring. Its exquisite craftsmanship, historical significance, and Liberty style make it a coveted addition to any collection. Don't miss the opportunity to own this exceptional piece, and let the timeless allure and artistic expression of this French vase grace your home, infusing it with elegance and a touch of the late 19th-century aesthetic. In good condition as on the photos. Condition exactly as on the photo, please exam photos for details. This is lovley item own or to give as specail gift.
Please view all photos alone with reading this description. If thers is anything I need to clarify, feel free to ask questions. I have other antique and vintage items for sale at the moment and shall be listing other over the following few days, so please keep checking my items for sale.
This is a lovely item to own or to give as a special gift. This means they have the usual aspects of pre-owned jewellery.
If there is a major dent, ding, flaw, or bend, it will be noted under the basic information. Please review all photos closely, since they are a large part of my item description. (all made with daylight, to show the colour as authentic as possible). I check myself each product and sell only the best quality products. In any case, if you are not satisfied with the product.
Please contact me and I will do everything to your satisfaction. I accepted within 14 days, In its original packaging and on condition the item is its original condition as received. My customers are very important to me! Please, In case of any problem or question, please feel free to contact me and I will do everything. I can to make you be satisfied!
In any case of problem contact me right away before leaving feedback so I will do my very best to resolve any problem. And to make you satisfied.