350 years old Shirasaya Wakizashi signed by Tsuguhiro NBTHK Tokubetsu Hozon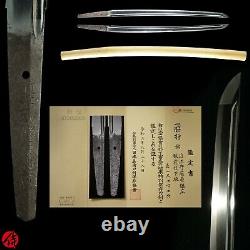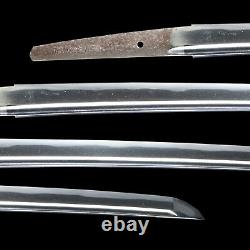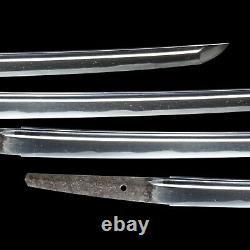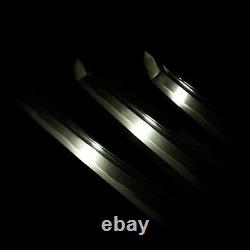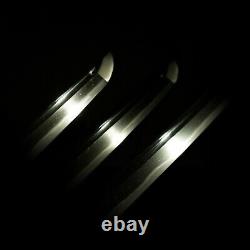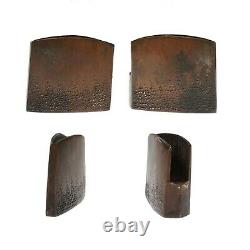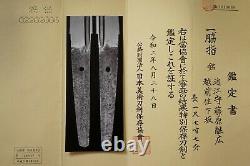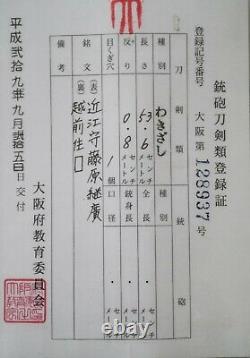 Edo Period 350 years old Shirasaya Wakizashi signed by Tsuguhiro with NBTHK Tokubetsu Hozon Certificate. NBTHK Hozon certificate, Traditional sword carrying case, a copy of its registration paper, Full exportation support.
Omi no Kami Fujiwara Tsuguhiro. 53.6 cm(21.1 inches).
0.8 cm(0.31 inches). Omi no Kami Fujiwara Tsuguhiro is an apprentice of the third-gen Yasutsugu. The master Yasutsus metalwork technique was so great that Ieyasu Tokugawa allowed him to engrave Mitsuba Aoi(a family crest of the Tokugawa family) on his forged blades.
Yasutsugu belonged to Shimosaka school, originally founded in Shimosaka town in Shiga prefecture at the end of the Muromachi period. And the school moved to Echizen city(Fukui prefecture) at the beginning of the Edo period. Yasutsugu engraved the title (Omi no Kami), and his makers name (Fujiwara Tsuguhiro) on the front. And he inscribed where he lived (Living in Echizen)on the back. There was also a record where Tsuguhiro forged swords in Edo city after leaving Echizen province.
Echizen Province was famous for forging razor-sharp, practically-designed swords. In Echizen province, there were so many swordsmiths originally from the Mino province(Gifu prefecture), which is known as one of the five great Japanese sword styles MINO-DEN. This blade reflects on the excellent metalwork skill Tsuguhiro had.
The condition of the blade is superb. The blade is appraised as Tokubetsu Hozon certificate issued by NBTHK. This authentication paper was only given to Japanese swords, especially worth preserving by Nihon Bijutsu Touken Hozon Kyokai(the Society for the Preservation of the Japan Art Sword).
The blade pattern created by the tempering process. Visible surface pattern on the steel. Nakago is the hilt of the Japanese sword. Japanese swordsmiths left the black rust on the tang because it prevents red rust while the tang is in its handle. And the discoloration of the tang was created over time, and it is a great indicator for a Japanese sword specialist to estimate when the sword was forged.
Habaki is the equipment to make the blade not touch its scabbard inside. It prevents the blade from getting rusty and chipped. NBTHK Tokubetsu Hozon Certificate for the blade. NBTHK, also known as Nihon Bijutsu Touken Hozon Kyokai (the Society for the Preservation of the Japan Art Sword), is one of the oldest Japanese sword appraising organizations in modern-day Japan. They authenticated the blade on August 28th in the second year of Reiwa(2020). They appraised it as Tokubetsu Hozon Touken, the blade especially worth preserving for Japanese society.
The purchaser will receive this original certificate as well. The Board of Education in Osaka prefecture issued a registration paper for this sword. In order to obtain this paper, the sword needs to be traditionally hand forged.
With this paper, its owner can legally own an authentic Japanese sword in Japan. We will send this paper to the board of education once the sword is exported. The purchaser will receive a copy of the registration paper. Antique Japanese Sword and Export process. Japanese sword is registered under t.
He Agency for Cultural Affairs and. The Board of Education in Japan. They issue a registration paper for each Japanese sword for the owner in Japan to legally possess it.
It normally takes around 1-1.5 months to receive. And we would like you to expect at least 2-3 months for your order to arrive at your given address after you ordered.
We use package cushioning to protect the item and put it in a PVC pipe, which is one of the most secure packages because of its durability. It will normally takes 5-14 days for the item to arrive at your given address after we dispatch it. Please note that your use of e-bay is governed by the following terms.
These Terms are between you and Samurai Museum and govern our respective rights and obligations. We deal with original edged samurai swords, which might be dangerous if wrongly used. Samurai Gift is not responsible for any lost package that is incorrectly addressed due to customer error. Please also bear in mind that damage or loss caused by custom or post office is beyond our control.
Thank you for checking our item. TO CHECK MORE ANTIQUE JAPANESE SWORDS FOR SALE. The item "350 years old Shirasaya Wakizashi signed by Tsuguhiro NBTHK Tokubetsu Hozon" is in sale since Tuesday, November 3, 2020.
This item is in the category "Antiques\Asian Antiques\Japan\Swords". The seller is "samuraimuseum888" and is located in Shinjuku. This item can be shipped to United States, Canada, Mexico, Germany, Japan, France, Australia.
Featured Refinements: NBTHK
Region of Origin: Japan
Age: Kanbun Era(1661-1673) : Early Edo Period
Primary Material: Carbon steel(Tamahagane)
Maker: Omi no Kami Fujiwara Tsuguhiro(
Original/Reproduction: Antique Original