(1)Painted 24 Dia. Replica of Vintage Antique 24 Old Railroad Crossing Sign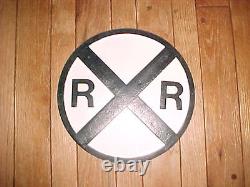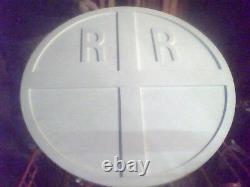 1- 24" Diameter cast aluminium reproduction of an old vintage original 24" antique railroad crossing sign. The back of the sign in flat for mounting to any surface.
Comes Unpainted as shown in the second picture. But can be unpainted for less as shown in the first picture. Note the R-R can also be put both up and or side by side. If you do not advise the R-R will be supplied side by side as in 1st picture. Great sign for the railroad enthusiest in the front or back yard or even the basement. Made from aluminium in our own back yard aluminium foundry in Hanover, Pa. If you have other items that can be cast just ask us.