Antique Doube Sided Krogers Shoes Advertising Old Trade Sign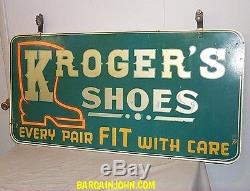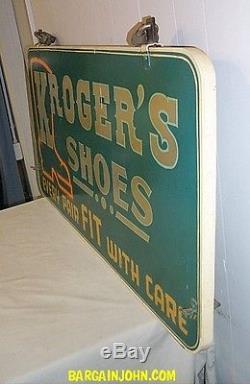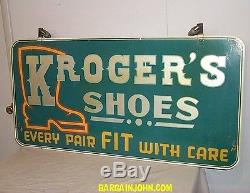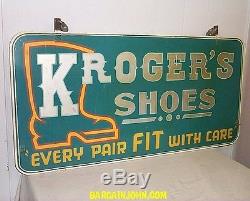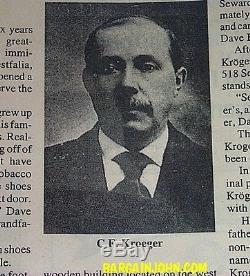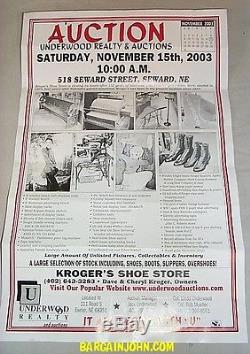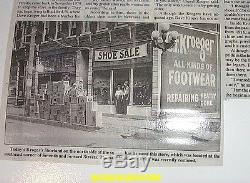 Bargain John's Antiques has been in business in the same location for over 45 years. I encourage you to look at our About Me Page where you will learn more about our antique business and the quality that has been our mission statement since we began. This is an advertising trade sign for Krogers Shoes of Seward, Nebraska. This sign would of hung and been displayed outside of the store and it reads, Krogers Shoes Every Pair Fit with Care. Notice the nice graphic outline of the cowboy boot. This sign is made of a masonite like wood, and thus the sign is not so heavy. The sign still has its original metal hangers. There is six different colors that have been used on this trade advertising sign.
This sign measures 48 x 24 and the sign is 1 1/4 thick. One of the best things about this trade sign is that we have the history behind the business that this sign advertises. This sign belonged to a shoe company called, Krogers Shoeland.
This was a 4th generation store, that started in business in 1871. This would date the business back to just four years after Nebraska gained statehood. Krogers was in the same building doing business since 1937.
Below is the information that was shared in this article. Then & Now North Side businesses share varied histories: Shoes run in Kroger family One hundred and thirty-six years ago Carl Frederick Kroger great-grandfather of Dave Kroger, immigrated to Seward from Westphalia, Germany; six years later he opened a shoe store that continues to serve the town today.
Kroger grew up in Bunde, Westphalia, where his family ran a cigar making business. Everybody needs shoes, Dave Kroger said about his great-grandfathers new trade. According to him, back then shoes were available in only one style.
Just something to cover the foot, probably with laces, he said. Bringing this trade to Seward, C. Kroger opened his first shoe store in 1871, four years after Nebraska became a state. The shop was a free-standing wooden building located on the west side of the square, Dave Kroger said. Kroger could not afford a horse to bring his leather to Seward so he would walk, approximately 65 miles to Nebraska City and carry the leather back on this back, Dave Kroger said. Krogers shoe store came to rest at 518 Seward St. In 1937, where it still stands today.
Several locations always Krogers, always shoes, said Cheryl Kroger, Dave Krogers wife. Though the name was always Kroger, the spelling has not always been consistent. In an attempt to preserve the original pronunciation of his name, C. Kroger replaced the o in his name with an oe. However Dave Kroger said his father felt this was confusing and non-Germans still mispronounced the name.
To make things easier Dave Krogers father dropped the e when he took over the store in the 1950s. Today the store is called Krogers Shoeland and is owned and operated by Dave and Cheryl Kroger, who are the fourth generation of the family to run the business. Dave & Cheryl, who met each other while attending Concordia University, came back to Seward in 1979 to keep the store in the family. They had been living in Rockford, Ill.
Where Dave Kroger had been a teacher for 16 years. Dave Kroger said he came back strictly for the heritage of the store. My father wanted me to come, and my grandfather really wanted me to come, he said.
According to him, theirs is the oldest shoe store in Nebraska and possibly the oldest in the nation run by one family. Age is either something you have or you dont, Cheryl Kroger said. The only way to earn it is by getting older. Although the Krogers have acquired age, Dave Kroger has not acquired his great-grandfathers shoe making abilities. With all the original tools at his disposal, he attempted to learn the art of shoe making. I thought if Id make my own shoes, Id be cool as heck, he said. I couldnt even make a sandal thats the most basic footwear.
Inside Krogers store a few relics from the past, including two benches from 1916, an antique sewing machine and numerous vintage photographs, provide nostalgia for Kroger and his customers. Although Dave Kroger takes great pride in the history of his business, he may be the final Kroger to carry on the legacy.
He said he told his children there would never be a job for them there. I wanted them to go to school and study, he said.
This article was featured in the Seward County Independent newspaper on August 21, 2002. We have a copy of this article with a photograph of C. Kroeger and a photo of C. This is a fun fact to still have this history that goes with this nice advertising trade sign.
I was able to acquire some other nice advertising items at this sale, look closely through my other items. Update: March 17, 2005 Omaha World Herald Newspaper Headline: House Fire Kills Longtime Seward Shoe Store Owner. The fourth-generation owner of a longtime Seward, Nebraska shoe store that closed in 2003 died Sunday (March 13th, 2005) in a fire at his home. A burning cigarette ignited the blaze that killed Dave A.
Kroger, 65, and destroyed his home in northeast Seward, said Seward County Attorney Wendy Elston. Kroger died of burns and smoke inhalation, Elston said, His wife, Cheryl escaped the fire uninjured. Kroger was born in Seward and graduated in 1963 from Concordia Teachers College. Three years later, he married Cheryl Leuthauser in Denver. Kroger was an elementary school teacher in New York and Illinois before returning to Seward about 25 years ago to help manage Krogers Shoeland, which his great-grandfather founded in 1871.
Survivors include sons Scott, of Minneapolis, and Jon, of Lincoln; sisters Gretchen Gleichman of Champaign, Ill. And Evelyn Kubert of Lincoln; and brother Fred Kroger of Atlanta.
Please contact Bargain John's Antiques with any questions that you might have. Bargain John's Antiques Inc. Is a family owned and operated Antique Store that has been in operation since 1968 in Lexington, Nebraska. Our inventory will represent some of the finest antiques of this period.
A place where you can deal and be assured that there are NO REPRODUCTIONS! Our shop is located just 2 miles north off of Interstate 80 in the Central part of the state. We are open Monday - Saturday 9:00 - 5:30 and Sunday 12:30 - 5:30 Central Standard Time. We are offering several unique and top quality items at a great savings. And enjoy looking at our listings in its entirety.
The item "Antique Doube Sided Krogers Shoes Advertising Old Trade Sign" is in sale since Thursday, November 10, 2016. This item is in the category "Collectibles\Advertising\Merchandise & Memorabilia\Signs\Original\Pre-1930". The seller is "bargainjohns" and is located in Lexington, Nebraska. This item can be shipped to United States.
Type of Advertising: Sign
Brand: Kroger Shoes
date of Creation: 1930's
Country/Region of Manufacture: United States